Gospel Tract Bible Craft
One Way Roman Road |
Watch our Video Version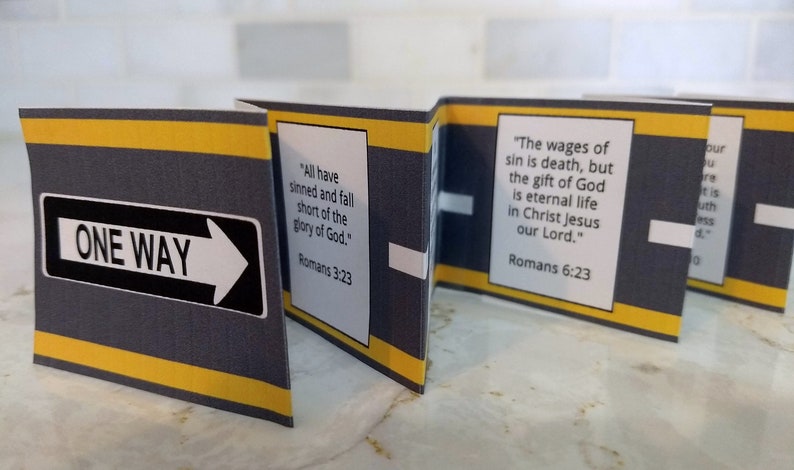 Make our Roman Road Gospel Tract and spread the Good News!

Our Roman Road Gospel tract displays seven key evangelistic verses from the book of Romans. These verses are presented as "signs" along a road, beginning with a ONE WAY sign, because Jesus said in John 14:6, "I am the way and the truth and the life. No one comes to the Father except through me."

Romans 3:10 "There is no one righteous, not even one. . ."

Romans 3:23 " . . . for all have sinned and fall short of the glory of God. . . "

Romans 5:8 "God demonstrates his own love for us in this: While we were still sinners, Christ died for us."

Romans 6:23 "The wages of sin is death, but the gift of God is eternal life in Christ Jesus our Lord."

Romans 10:9 "If you confess with your mouth, Jesus is Lord," and believe in your heart that God raised him from the dead, you will be saved.

Romans 10:10 "For it is with your heart that you believe and are justified, and it is with your mouth that you confess and are saved."

Romans 10:13 "Everyone who calls on the name of the Lord will be saved."
Print as many tract patterns as you need for personal or classroom use! You may then distribute the finished tracts widely. (Not for resale.)

This Bible craft coordinates well with our SIGNS OF THE TIMES Bible lessons.
The Roman Road Gospel Tract is available exclusively on our Etsy platform. You will receive a PDF digital file with the patterns and instructions. For personal or single classroom use. Learn more.
Help keep the site going, support our site!

Subscribe to our Newsletter - Learn More
Site Map